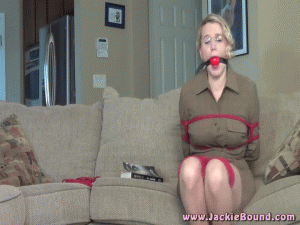 71 photos; 12:51 video
Librarian Jackie is shocked when she comes across some books in the paperback fiction section of the library that detail some pretty explicit BDSM scenes. The shock quickly turns to awe and the eyeglass clad, bun in hair, buttoned up Jackie wonders what it would be like to be tied up and struggling around on the floor in the middle of the hush hush library. It's not long before one of the regular library patrons, Johnny, comes along and decides to make Jackie's fantasies come true. While she is still wearing her fully buttoned brown jacket and skirt with red plaid pattern, stockings and shiny red high heels, Johnny takes her at hand. He tosses her to the floor, ties her legs together (so she can't get away) and then proceeds to tie her arms behind her back. Before long, she is thrust into a tight hogtie with a red ball gag in her mouth. The library is really quiet now. And, Jackie is ready to explore more of her sensuous side with the likeminded Johnny.....
See! Going to the library can be fun!