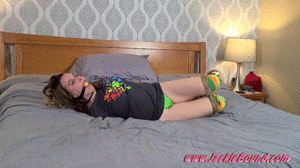 63 photos; 11:47 video
HAPPY ST PATRICK'S DAY FROM JACKIE BOUND.COM!
This year, we have a little fun with our St Patrick's Day shoot, as usual! I put on my clover t-shirt with green panties and tall rainbow socks. Of course, I am wearing one of my favorite collars. Then, Johnny ties me in a secure hogtie on the bed with hemp rope. He proceeds to put the gold ball gag in my mouth, because you know there is always gold at the end of the rainbow. Finally, I get to have lots of fun just rolling around on the bed in my current predicament. Now, where are the leprechauns when you need them? Hope you all have a fun and safe St Patrick's Day! I find that hogties really help keep me out of trouble! :)

Be looking for St Patrick's Day bonus photos soon!

Also, please visit my profile on #wattpad- wattpad.com/user/realjackiebound and let me know what you think of my writing. It is still a work in progress, but not doing bad considering I only published my first story less than 3 months ago. ;)